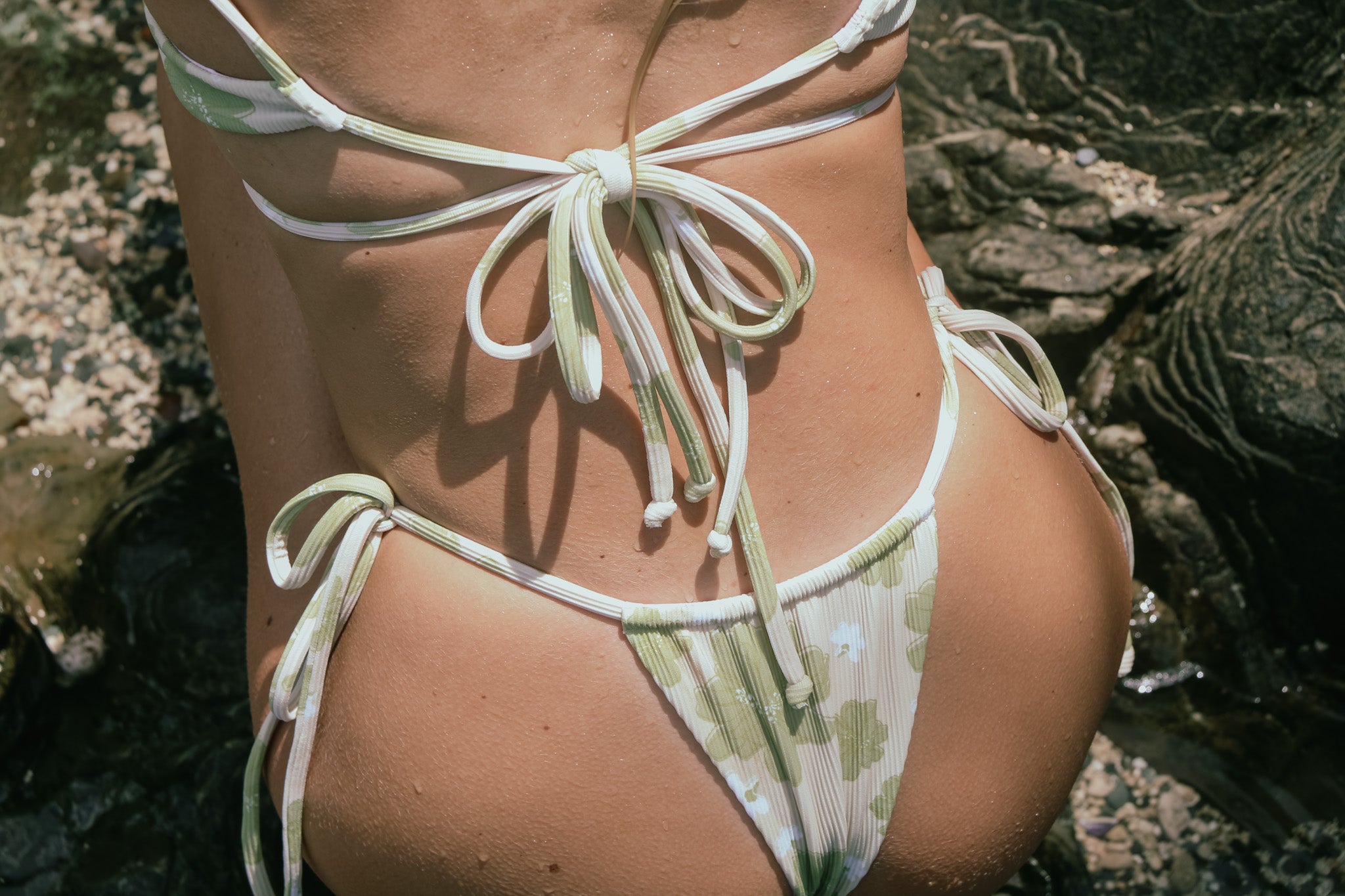 The Spectrum of Favorites: Tai Swim Co's Bestselling Bikinis and Beyond
2023 Trend Report: Unveiling the Hottest Picks that Rocked the Beach This Year
---
At Tai Swim Co, every piece of swimwear is crafted with love, designed to embrace the natural beauty and unique styles of our diverse clientele. As we navigate the vast ocean of preferences, let's take a closer look at our bestselling bikinis and accessories that made a splash in the fashion world. From the sun-kissed sands to the crystal-clear waters, these favorites are defining a new era of beach chic.
1. The Joelle Set: Effortless Elegance
The Joelle Set is the epitome of understated elegance. Featuring a classic triangle top and an adjustable double strap scrunch bottom, it accentuates curves while providing a comfortable and secure fit. This timeless duo blends seamlessly with any beach scenario, making it a favorite among our customers. Its highlights include:
Triangle Top: Delicate and adjustable, offering a customizable fit and light support.
Scrunch Bottom: Emphasizes curves and adds a touch of allure.
Versatile Appeal: Ideal for sunbathing, swimming, or lounging by the pool.
2. The Jordyn One Piece: Bold Statements, Full Coverage
For those who prefer a more modest yet stylish look, the Jordyn One Piece is a go-to choice. Featuring thicker straps and full coverage, it's designed to embrace confidence while exuding a chic vibe. Key features include:
Thicker Straps: Providing added comfort and support.
Full Coverage: Offering a secure fit and modest style.
Effortless Confidence: Perfect for active beach days and water adventures.
At Tai Swim Co, we believe in sustainability at its core. Our Microfiber Changing Towel, crafted from recycled materials, echoes this commitment. Not only is it environmentally friendly, but it's also versatile and convenient:
Recycled Microfiber: Soft, absorbent, and made with eco-consciousness.
Quick-Drying: Ideal for a post-swim quick change.
Compact and Portable: Easy to carry, making it perfect for any beach bag.
4. The Tai Set: Embrace Your Playful Side
The Tai Set is for the spirited and playful souls. Featuring a super stringy, adjustable design, it's all about embracing your unique style. The Tai Set boasts:
Stringy Design: Offering a playful and adjustable style.
Expressive and Fun: Perfect for those who love to flaunt their personality.
Endless Mix and Match: Pair with different bottoms like the Joelle Bottoms, Mina Bottoms, Quinn Bottoms, Eli Bottoms & more for a versatile beach wardrobe.
---
These favorites have charmed the beach-loving community, representing the diverse tastes and styles of Tai Swim Co enthusiasts. From the minimalistic allure of the Joelle Set to the bold and confident Jordyn One Piece, there's something for every beachgoer within our bestselling collection.
At Tai Swim Co, we strive to create swimwear that's not only fashionable but also sustainable. Our commitment to using recycled materials, as seen in our Microfiber Changing Towel, resonates with our larger mission of preserving the beauty of our oceans.
In the end, it's not just about bikinis or towels; it's about empowering you to embrace your unique style and confidently own every beach moment. These bestselling pieces are a testament to the beauty of diversity and the joy of self-expression.
Whether you're soaking up the sun or catching the waves, Tai Swim Co is here to make a statement. Choose your favorite, flaunt your style, and make waves wherever you go.
Life's a beach. Enjoy the waves in Tai Swim Co.