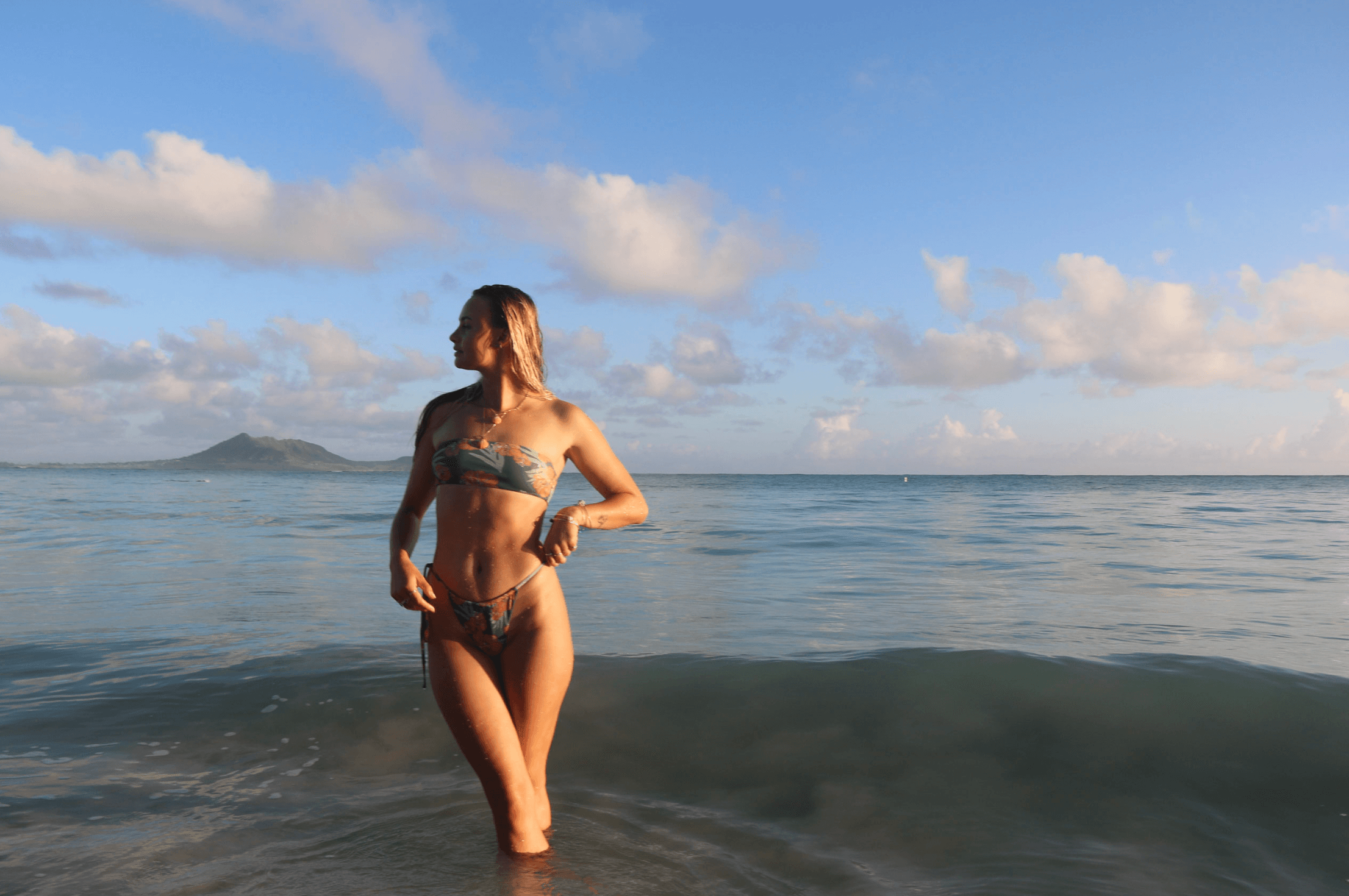 How to Make Your Bikini Bottoms Cheekier: Tips and Tricks
Reasons you may want your swimwear to look cheekier
Are you looking to show off a little more of your beach-ready curves? There's a multitude of reasons that you might want your bikini bottoms to look cheekier. Some girls think that it makes them look taller. Whereas others find cheeky swimwear to be more comfortable. You'll find that most girls agree though that cheekier swimwear shows off their defined figures better than other types of swimwear. This post will have the best tips for a cheekier bikini.
Do I need a skimpy bikini in order to have a cheeky look?
Yes and no. A cheeky bikini bottom will definitely look cheekier because the cut was designed to be that way. However, with almost any type of bikini you can get a cheekier look with a few of the pointers below:
1. Pull the straps on your bottoms above your hips
Don't be afraid. Pull them up! Some swimwear is meant to be worn high on the hips for a reason. When you wear them low if that's not the design, extra fabric will dangle around & not provide the most flattering look. Bikinis are meant to be right up against your skin and shouldn't have any extra fabric hanging from the suit.
2. Wear the swimsuits backwards
Typically, most swimwear will have more fabric coverage on the back of the swimsuit as opposed to the front of the suit. Sometimes its as easy as just wearing the bottoms backwards that will give the cheekier look that many girls are seeking. This obviously won't work with all types of bottoms, but its worth a shot to see how they look.
3. Opt for a Brazilian Cut
Brazilian cut swimwear bottoms with a "v" shape will naturally sit high leaving little to no work on your part for maintaining the cheekiest look. Brazilian-cut bottoms feature narrower coverage at the back, highlighting your curves and giving you that desired cheeky look. Experiment with different styles, such as tie-side bottoms or high-cut legs, to find the perfect fit for your body shape and personal style.

Not sure what Brazilian cut swimwear is? Check out our article about Brazilian bikinis and their popularity in the Hawaiian Islands.

4. If taking photos, try shooting from a low angle
It's no secret that the lower the angle, the taller you look. It's a simple matter of perspective. That being said, this strategy also works with wearable garments. If you point your camera from a slightly lower vantage point, you'll maintain the cheeky look even if the style you're wearing isn't as high rise as most!
5. Ruched or Scrunch Detailing
Look for bikini bottoms with ruched or scrunch detailing at the back. These design elements gather the fabric, creating a flattering and lifted appearance, emphasizing your curves and giving your bottom a more pronounced shape. The ruching or scrunching adds a touch of allure and enhances the cheeky vibe of your swimwear.
6. 

Tie-Side Adjustability

Opt for bikini bottoms with adjustable tie sides. This allows you to customize the fit and tightness of the bottoms, providing the option to scrunch and gather the fabric at the back for a cheekier look. Adjust the ties to your desired level of cheekiness, ensuring a comfortable and secure fit.
7. 

Bold Prints and Patterns

Choose bikini bottoms with bold prints or patterns. If may sound crazy, but vibrant colors, eye-catching prints, or intricate patterns draw attention to your swimwear and can give the illusion of a cheekier appearance. Opt for designs that accentuate your assets and make a statement on the beach or by the pool.
Conclusion
With these tips, you can confidently make your bikini bottoms look cheekier while enjoying a comfortable and stylish swimwear experience. Whether you opt for simply pulling your straps up, wearing the swimsuit backwars, choosing a Brazilian cut, ruched detailing, tie-side adjustability, or bold prints, remember to choose styles that make you feel confident and empowered. Embrace your curves, have fun experimenting with different designs, and rock your cheeky bikini bottoms with confidence!
Infographic