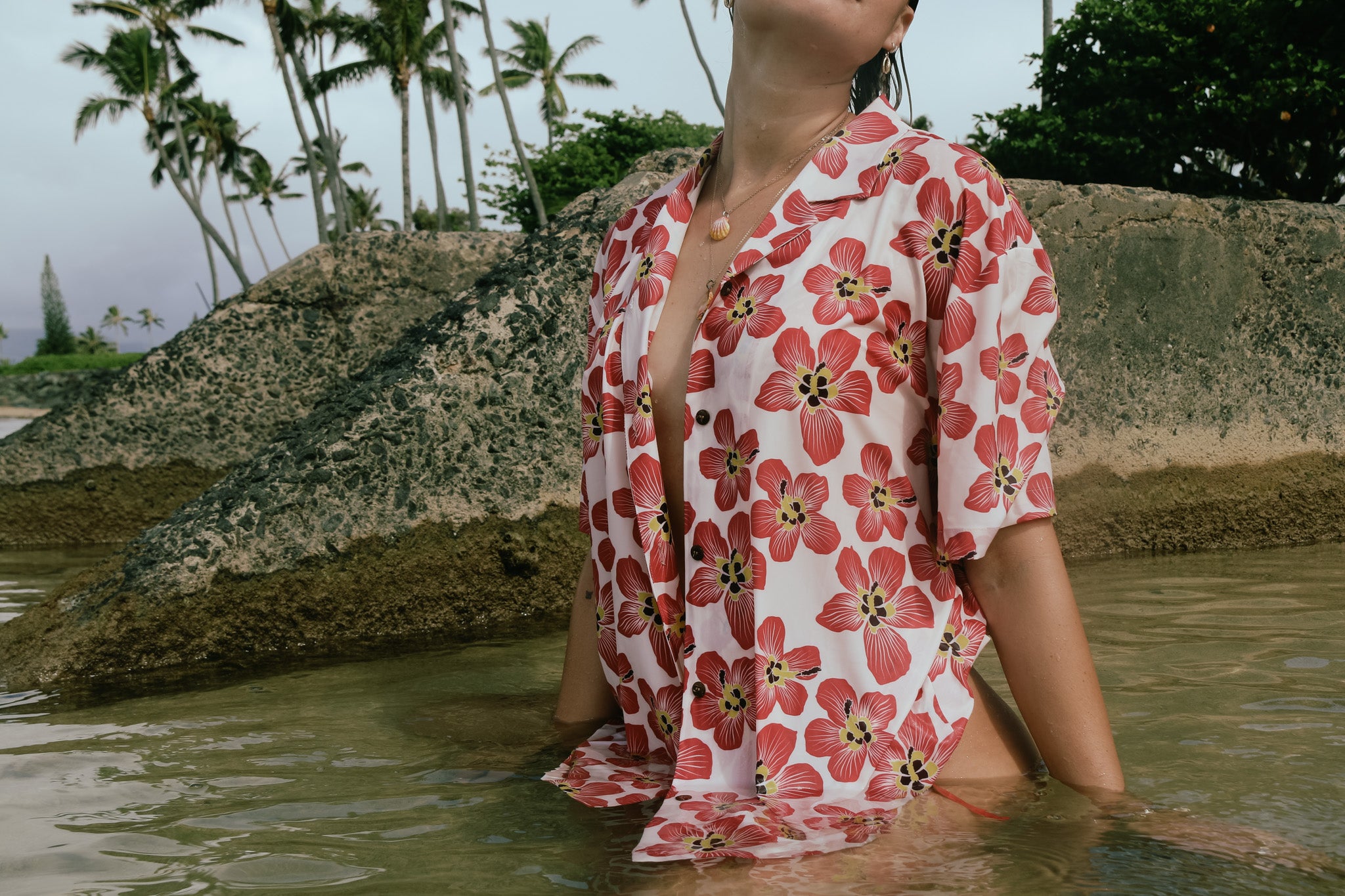 Introducing the Hau Flower Haena Print by Tai Swim Co
Summer is loading….

The flowers that flood my camera roll for the entire year prior to seeing the products are usually just found in nature while I'm walking my dogs, running errands or doing photoshoots 🌺 So proud to feature all completely hand drawn (from scratch!) prints here at Tai Swim Co. Our original hau flower swimwear print was born this year & we hope it will remain forever iconic.
The inspiration for Haena came to life on a day-trip to Kauai's North Shore in 2022. I spent my elementary years at Hanalei School before moving to O'ahu. As an artist, I am constantly inspired by the natural beauty around me, and the Garden Isle's iconic area of Haena on Kauai's North Shore is no exception. The area is known for its stunning natural beauty, including the rivers lined with Hau bushes that bloom with beautiful pink and purple flowers. Drawn to the unique shape and vibrant colors of the Hau flower, I decided to create a hand-drawn illustration that captures the essence of this beautiful flower and the surrounding area. With careful attention to detail and a deep appreciation for the natural world, I aimed to create a piece of art that truly embodies the spirit of Haena and its stunning natural beauty.
My favorite part about the print designing process is to see the digitized version of something that was found in nature just in my life. Here are some of the reasons why you might like hand drawn prints a little better:

🌺 Unique Designs: Hand-drawn prints offer unique and one-of-a-kind designs that cannot be replicated with digital printing techniques. This makes them stand out from other swimwear on the market and provides a unique selling point for designers and brands.

🌺 Personal Touch: Hand-drawn prints have a personal touch that digital prints can lack. The artist's hand is evident in the details of the print, creating a human connection that customers can appreciate and connect with.
(tai holding the original flower that inspired the Haena print)

🌺 Environmental Sustainability: Hand-drawn prints are more environmentally sustainable than digital prints because they require less energy and produce fewer emissions. Example: painting versus printing. This makes them a more eco-friendly choice for swimwear designers and brands looking to reduce their environmental impact.

🌺 Longer Lifespan: Hand-drawn prints won't lose their trend. As most of the inspiration comes from nature, the designs will remain classic & timeless.

🌺 Artistic Expression: Hand-drawn prints allow artists to express themselves creatively and showcase their talents. This makes the swimwear more than just functional clothing, but also wearable art.

🌺 Cultural Significance: Hand-drawn prints often have cultural significance, drawing inspiration from traditional patterns and motifs. This adds cultural value to the swimwear and can help preserve cultural traditions.


🌺 High Quality: Hand-drawn prints are typically of higher quality than digitally printed fabrics, with more attention paid to detail and color matching. This results in swimwear that is of higher quality and better value for YOU.

Hand-drawn prints offer numerous advantages over other printing techniques, particularly in the realm of swimwear and sustainability. Their uniqueness, personal touch, and artistic expression make them stand out from the crowd, while their environmental sustainability and longer lifespan make them a more eco-friendly and cost-effective choice. As an artist, I was inspired by the natural beauty of Kauai's Garden Isle area of Haena, where Hau bushes bloom with vibrant flowers along the rivers. By creating a hand-drawn illustration of the Hau flower, I sought to capture the essence of this beautiful area and its unique features, showcasing the beauty of the natural world through my art. Through the combination of art and nature, we can create a sustainable and beautiful world that brings joy and inspiration to all who experience it.
Also On The Blog
Just Added