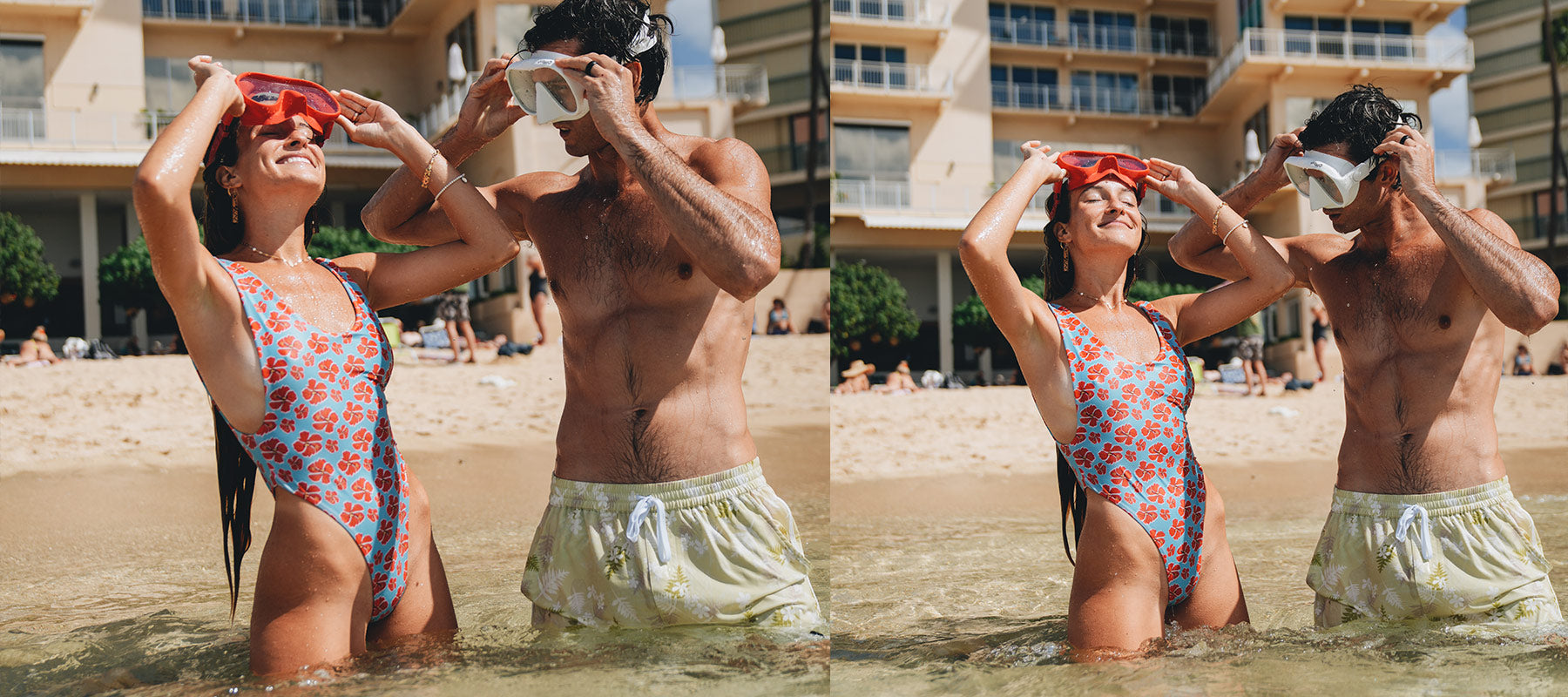 Why Good Quality Swimsuits Are Important for Swimming
Investing in a great quality bikini will save you a ton of money down the line. While it might seem exorbitant to spend $100 for one bikini top from a small business, your wallet & body will be thanking you later. Good quality swimsuits are important for swimming or other water activities for several reasons:
Comfort: Good quality swimsuits are made of materials that are designed to be comfortable and allow for a full range of movement, whether you're swimming laps, playing water sports, or simply lounging by the pool. They should fit well and not cause any irritation or chafing.

Durability: Swimming and other water activities can be hard on swimsuits, with exposure to chlorine, saltwater, and sun. A good quality swimsuit will be made of durable materials that can withstand these elements and last for many wears.

Functionality: Depending on the activity, you may need a swimsuit with specific features, such as extra support for swimming laps, a secure fit for surfing, or a high level of sun protection for outdoor activities. A good quality swimsuit will be designed with these features in mind.

Performance: If you're a competitive swimmer, a good quality swimsuit can make a significant difference in your performance. Swimwear that is designed specifically for competitive swimming can provide hydrodynamic benefits, reduce drag, and improve your speed and efficiency in the water.

Appearance: Finally, good quality swimsuits can simply look and feel better than cheap, poorly made options. They can be more flattering, boost your confidence, and make you feel great while enjoying your time in the water.
But, what are the traits of a good quality swimsuit you might ask? Here are our favorite features of a swimsuit that will last for so much longer than the rest. 
High-Quality Materials: A durable swimsuit should be made of high-quality materials that can withstand exposure to chlorine, saltwater, and sun. Look for swimsuits made of materials like recycled polyester, nylon, or spandex blends, which are known for their durability.

Double Lining: Some swimsuits feature double lining for added durability and protection. This can also help to provide additional support and coverage.

Reinforced Seams: The seams of a swimsuit are a common area of wear and tear. Look for swimsuits with reinforced seams or double stitching, which can help to prevent the suit from falling apart.

Chlorine Resistance: Chlorine can be harsh on swimwear, causing colors to fade and materials to break down. Look for swimsuits that are labeled as chlorine-resistant, which are designed to withstand exposure to chlorine.

Sun Protection: Swimsuits with built-in sun protection can help to prevent damage from UV rays, which can cause fading and deterioration over time.

Proper Fit: A swimsuit that fits properly is less likely to experience excess wear and tear. Make sure to choose a swimsuit that fits snugly but comfortably, with enough support for your specific body type and activity level.
By looking for these qualities in a swimsuit, you can help to ensure that your swimwear lasts longer and remains in good condition, even after multiple wears and washes. Investing in a good quality swimsuit can make a big difference in your comfort, performance, and enjoyment of water activities. If you buy a bad quality bikini from places like Amazon, Shein, or other fast fashion, you may experience a few potential negative consequences:
Discomfort: Bad quality bikinis may not fit properly, provide adequate support, or be made of materials that are comfortable to wear. This can lead to discomfort, irritation, or chafing while wearing the bikini.

Poor durability: Bad quality bikinis may be made of low-quality materials that are prone to wear and tear, fading, or stretching out of shape. This can cause the bikini to lose its shape and fit, or even fall apart after just a few wears.

Inadequate coverage: Some bad quality bikinis may not provide adequate coverage, leading to unwanted exposure or wardrobe malfunctions.

Lack of support: Women identifying individuals with larger busts may need bikinis with more support, but bad quality bikinis may not provide the necessary support, leading to discomfort or even pain.

Unflattering appearance: Bad quality bikinis may not be designed to flatter your body type, and they may not fit well, leading to an unflattering appearance.
Overall, buying a bad quality bikini from fast fashion companies like Shein can be a waste of money and can cause discomfort, embarrassment, or other negative consequences. It's important to invest in a bikini that is made of high-quality materials, fits well, and is designed to meet your specific needs and preferences.